Independence Science recognizes that several amazing scientific advancements were made by African American Scientists.
Dr. Percy Julian: April 11, 1899 – April 19, 1975
We 1st wanted to call special attention to Dr. Percy Julian, one of the world's most influential chemists. Dr. Julian was the grandson of former slaves and due to segregation laws was only allowed to complete through the 8th grade prior to taking evening remedial classes at DePauw University along with his doctoral coursework. Once he earned his doctorate, he discovered birth control pills, cortisol, and made aerosolized fire extinguishers. To learn more please visit https://www.biography.com/scientist/percy-julian
or watch, https://www.pbs.org/wgbh/nova/video/forgotten-genius/
Dr. Marie Maynard Daly: April 16, 1921 – October 28, 2003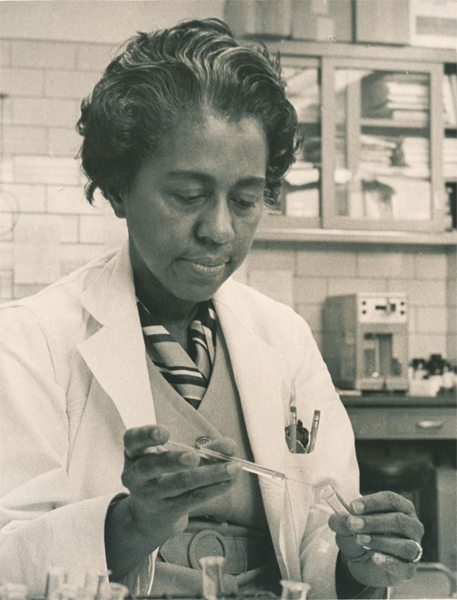 Dr. Marie Maynard Daly who was the 1st black American woman to get a PhD in Chemistry. She made many important contributions including discovering the link between cholesterol and hypertension.
St. Elmo Brady: December 22, 1884 – December 26, 1966
Another great #blackinstem scientist is St. Elmo Brady. He developed the 1st graduate chemistry program at a black college. He was also the 1st African American to get a chemistry PhD in 1908! #BlackHistoryMonth
Garret Augustus Morgan: March 4, 1877 – July 27, 1963
Garret Augustus Morgan of Kentucky invented a safety hood that allowed the user to enter smoke filled areas. These hoods were used to rescue workers from a tunnel in 1916. He also patented a traffic signal with three indicators in 1922 and Hair straightening cream with a matching straightening comb.
Lewis Howar Latimer: September 4, 1848 – December 11, 1928
Latimer was born in Massachusetts on September 4, 1848. Latimer co-patented an improved toilet for railway cars. He was hired to make the technical drawings for the patenting of Alexander Graham Bell's telephone. He patented an early prototype for modern air-conditioning. Perhaps most notably, Latimer pioneered a new method for manufacturing the carbon filaments used to make lightbulbs.
Mary Jackson: April 9, 1921 – February 11, 2005
Mary Jackson was NASA's (National Aeronautics and Space Administration) first Black female engineer. She was first a mathematician and later became an aerospace engineer while working as a human computer at the National Advisory Committee for Aeronautics which became NASA in 1958. By 1979 she was the most senior person in NASA's engineering department, but decided to take a demotion to lead NASA's office of Equal Opportunity in order to help women and minorities gain jobs at NASA. She retired in 1985. In 2020, the NASA headquarters in Washington, DC were named after her.
Alice Ball: July 24, 1892 – December 31, 1916
Alice Augusta Ball was the first Black woman to graduate from the University of Hawaii and she was also the first female and African American professor at the school. She was a chemist who developed a highly effective treatment for leprosy called the Ball Method. She figured out how to make a compound be easily absorbed into the body to treat leprosy, which had no real chance of recovery before her method. Unfortunately, she became ill and passed away before she could publish her work. It is not known how she became ill, but t is thought that it was chlorine poisoning from her lab.
Margaret James: September 4, 1922 – April 27, 1996
By Source (WP:NFCC#4), Fair use, https://en.wikipedia.org/w/index.php?curid=45498389
Margaret James was an entomologist who specialized in the study of termites. She received a PhD from the University of Chicago in 1950 and was known as "the termite lady" because of her focus on the species. She was the third Black female zoologist in the United States and specialized in the insects of Guyana and Florida. She taught at several colleges and became the chair of the Biology Department at Florida A&M University in 1953. She lectured about biology and equality and later became a research associate with the Smithsonian Museum of Natural History where she conducted a lot of research in the Caribbean. When she died in 1996, she was on an expedition in the Cayman Islands