Remote Learning for Blind Students now possible in Science Laboratory Classes
Independence Science is very excited to announce that accessible hands-on science learning is now possible for the blind! For the first time, students from remote locations can now work together on accessible scientific data collection in the laboratory from home by using the JAWS tandem and/or LabQuest Viewer software applications to work with a science teacher or lab partner physically located in a science laboratory classroom!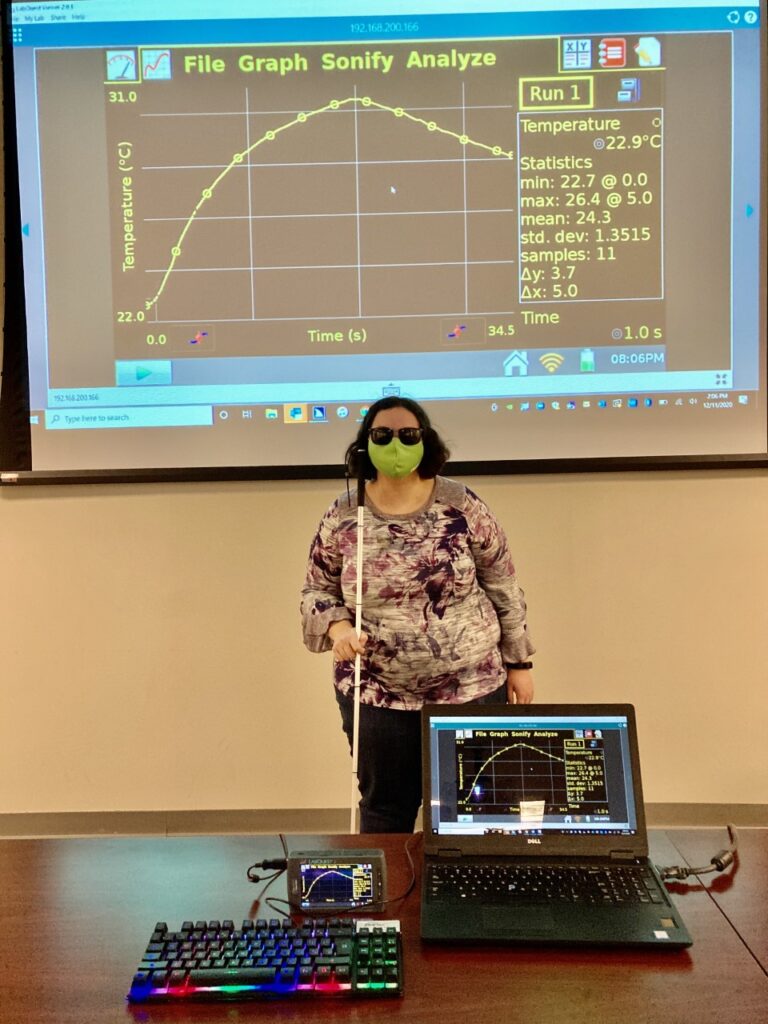 This can be done one of two ways:
Use Sci-VoiceTM Talking LabQuest2 version 2.3:
Leverage the NEW Sci-VoiceTM Talking LabQuest2 version 2.3 software available from December 1, 2020 in conjunction with LabQuest Viewer, now included as part of your software upgrade for a limited time. This allows a teacher in a science laboratory the ability to use a Sci-VoiceTM Talking LabQuest 2 device with a blind student in a remote location while allowing the blind student the ability to control the LabQuest device on their home computer. Make sure to plug external speakers into the Sci-VoiceTM Talking LabQuest device located in the science laboratory class to ensure ease of hearing LabQuest operations. A virtual meeting needs to be running in parallel to optimize this experience. Please call Independence Science for more details on how this is possible at 1-866-862-9665 or email [email protected].
Use Sci-VoiceTM Talking LoggerPro
A second option is to use JAWS tandem in conjunction with a site license of Sci-VoiceTM Talking LoggerPro and the Independence Science Sci-VoiceTM Talking LoggerPro JAWS scripts installed on a host computer in a science laboratory classroom. JAWS needs to be installed on both teacher and student computers to establish a JAWS tandem session whereby the blind student at home is allowed to access the teacher's host computer in the classroom. Once this is established, all JAWS/LoggerPro keystrokes that are used in the classroom will function as if the blind student was at the laboratory workstation. JAWS will speak the data points and sonify graphs on both computers.
If the emboss graph feature is used, a Tiger embosser will need to be available in the science laboratory classroom for the embossed output to be captured. This hard copy can then be mailed "Free Reading Matter for the Blind" in the United States to students in the home. Additionally, the PRN graphics file produced by LoggerPro can be saved and e-mailed to the blind student for printing on an embosser located at home, once the JAWS tandem connection is disconnected
Multiple JAWS tandem sessions may be required to complete an entire lab experiment.
Remote Collaboration
Many teachers are using adaptive lab activities that leverage safe, environmentally friendly materials commonly found in the home. You can adapt these activities to allow students to use JAWS tandem connect their computers with one another while working as a group in a virtual classroom. This would require students to have access to Vernier science laboratory sensors in their home, along with a hub device to interface with a PC computer. The Sci-VoiceTM Talking LoggerPro JAWS scripts will need to be locally installed on at least one of the home computers for this capability to work properly.
Independence Science is committed to new innovative science access solutions that promote the full integration of the blind into science learning experiences. These new innovative science access solutions continue to push the boundaries of what is possible for science access in these unprecedented times of mass remote learning during the global pandemic. Please contact Independence Science for more information about these new capabilities.